Living in a RV full-time forces you to live more simply
With only about 100 sq ft of living space, our family of three had to whittle down our belongings into what was truly needed. This meant clothes that were actually worn day after day, not just for special occasions. Clothes that matched the weather, the season. No winter clothes while traveling through blazing-hot Mazatlan weather in June. We had kept some stashed above our truck cab in weather-proof boxes. No longer did I carry unnecessary beauty products like tubes of hair gel or bottles of face toner. I never even used a hair dryer because I didn't want to use too much electricity. Now even as we've recently moved from living full-time in the RV into a rented apartment, I have no desire to buy unnecessary beauty products I used to keep crammed inside my cabinets of my house like argan oil, hair creme, hairspray, a plethora of facial products. Now my beauty routine is simple: basic shampoo and conditioner for my hair, and facial cleanser and moisturizer. That's it!
It's easy to reset your circadian rhythm with Vitamin D-3 from the sun
Every morning, it was easy to open the front door of our RV and step out into nature for some easily accessible Vitamin D3 to flood the retinas of our eye sockets. This is a quick and easy way to reset your circadian rhythms, helping you to improve your sleep. This is something I miss but still try to apply every morning, making sure I raise the shades of my bedroom to greet the sun, get in an early walk out in the fresh air.
You don't need that much stuff from Amazon (ex. clothes, books, cooking utensils)
Living in a RV, we rarely ever ordered from Amazon (exception: Kindle books). With a dearth of space, you begin to realize: Who really needs to order that much from Amazon anyway? Especially when you'd order a pen and have it arrive with a mess of plastic packaging in a giant cardboard box; what a waste! When we were living in a RV in Mexico for about five months, we never really stayed put long enough to order anything from Amazon. Besides, we couldn't even figure out how to do it (although some friendly Canadians in Los Braillies, in B.C.S., Mx, told us there was a way). While in the States, we had delivered a few items from Amazon at one or two RV parks and used Amazon locker from time to time, but the longer we lived in the RV, we realized we could really do without the huge online retailer. Most things you could buy at your local store, wherever that may be.
It makes you realize that nothing is ever permanent
Even now living in an apartment we're leasing for one year, we now have the mindset that if it doesn't work out, we can always pick up and go somewhere else. Back to Mexico, or some place we had never lived. Somewhere like Malaysia or Taiwan, where my parents grew up and many of my relatives still live. Or anywhere in the world that isn't crazy expensive. What we're most happy about is that we got rid of being tied to the ball and chain of a mortgage and property taxes. Now we feel much more freedom to move as we please.
Spending time with family is time well-spent
The year we lived in a RV was the most time we've ever spent with our kid. Short of that first year of babyhood, we have never spent so much time as a family unit before, especially in such close proximity. In the past, when we lived in a house together, we were all in our separate spaces, almost separate lives. With us working outside of the house then, we'd only see each other as a cohesive family after work or on weekends. And when my 26-year-old stepdaughter, also a traveler, came to visit us from India, where she had lived for over six months, we had the best time out in Redinger, CA, not too far from Yosemite, as well as Chabot in Castro Valley, CA, the two siblings chatting and making videos together, laughing their hearts out. We'd watch the stars in the sky at night as we cooked dinner outdoors on the grill. During the day, we'd go for long hikes. When my dad had emergency spinal surgery last summer, we parked our RV in the hospital parking lot in San Leandro, CA and got to spend even more quality time with him as he recovered from surgery. Because my parents live in Livermore, CA, we parked our RV in Del Valle Regional Park and again, spent more time with my mom, dad and 80-something-year-old aunt than I ever did when we lived in a house only 40-ish minutes drive away from them. It's funny how living in a RV can make you closer to your family!
You learn to conserve resources such as water
We showered less, washed hair less often
Wiped plates off into the garbage (even now in the apartment)
Use less water to run while brushing teeth, face, and hands
You're less concerned with needing everything to be clean (including yourself!)
Before RV Life, I was highly-critical about public bathrooms and camping showers to be hotel-level clean. After RV Life, my standards have significantly lowered. Now my husband and I pride ourselves in being able to use the grossest bathroom. In one RV park in Mexico, we showered in a bathroom that had only cold water running with barely any water pressure, and mice poop on the wall shelves.
It gave us faith in humanity again — most people are good people (unlike what the media will tell you)
Whether in Montana or California, Mexico or the U.S., there were plenty of people we connected with. When we first began living in a RV and I was still trying to figure out this new life, there was no shortage of friendly folks who readily gave us useful advice on where to go and how to live when you live in a RV. We'd meet them while dumping sewage or at RV parks from Colorado to Utah, Idaho to Wyoming. In Texas, a woman with blonde hair streaked with gray came inside our RV and personally showed me how to roll up my clothes in the storage areas for better efficiency, also showing me her favorite maps. A man we met in Utah wrote down in my bullet journal all his favorite places to boondock on BLM land or Forest Roads all over the U.S. At each place we stayed at, we were given suggestions by our neighbors on where to go next, since we weren't as destination focused, taking more of a slow travel approach. Boondocked next to a creek in Wyoming, shortly after visiting the Grand Tetons, we met a solo traveler from Switzerland on a motorcycle. Sharing wine, we gained insight about his almost two-year-long world travel, from Africa to Australia and beyond. He joked with us that the hardest border he faced of all the places he had gone so far in the world was entering the U.S. through Canada only days before. As he collected flag stickers from each country on his motorcycle, he made sure to scrape off the flag sticker from Iran, because he knew he could face difficulty. Headed for Mexico, we shared info we had learned at the Overland Expo we had attended where a panel gave advice for those traveling by motorcycle, van or RV to Mexico. While there at that panel, we had a chance to meet one of the two badass overlanding ladies, also a couple and authors of the book, I Can. Will. Women Overlanding the World. We had followed them on Instagram, inspired by their travels as a couple. In Mexico, I must have lost either my iPhone or wallet at least three times at a restaurant. But every single time, I found it where I had left it, nothing stolen. One time in Cabo, I left my phone in an Uber driver's car. About an hour later, the driver showed up at the restaurant he had dropped us off in and brought back my cellphone. At the Overland Expo in Flagstaff, Arizona one year where we exhibited our RV with Blissmobil, we met an amazing guy from Colorado who had connected with my husband on Instagram before who showed up with fresh duck, chicken, even emu, eggs, plus bacon and meat. Another former ambulance driver in New Mexico bought us breakfast so he could meet us to chat about our RV. In Baja, we met up with another guy from Arizona who converted his ambulance into an expedition vehicle, who invited us for a potato bake on the beach and later showed us the best spots to boondock on the beach at La Ventana and El Sargento, bringing our family to enjoy a bike ride amid the abundant cacti. A Mexican mechanic from Guanajuato with a love for 4×4 trucks offered to help us with any mechanical problems, should we find ourselves in a bind. Via Instagram, he asked if we could meet up at the RV park and gave us abundant tips on where to go, where to eat. Another couple who had found my husband's Instagram feed invited my husband and son to their home for a meal while I flew to San Miguel de Allende for a writer conference, later renting us their own stand up paddle boards to use while facing the Sea of Cortez. In Mazatlan, shortly after we left Baja Sur on a ferry to the mainland, we met a young YouTuber born and raised there who made a video of our RV. In Guadalajara my former neighbor in Oakland's parents who grew up there insisted on having us over for drinks (they used to make and sell their own tequila) and taking us to their neighborhood restaurant to eat traditional Mexican meal. Our last time living in a RV while parked in Austin, TX this past summer searching for apartments so our kid could attend high school, we met a couple who is as into keto and carnivore as we are. We actually sat together chatting together like old friends for over FOUR hours! They have started a Keto Nomad group online for people who are into RV life and are also keto. Or at the very least, are interested in both for the future.
A surprise for us introverts: we experienced less social anxiety
Living in a RV, especially a unique expedition vehicle such as our Blissmobil, definitely pushes you out of your comfort zone. I used to live in a 3000 sq ft home, and even then, there were times I was reluctant to even go outside to get the mail, for fear of having to say hi to the neighbors, to bump into people. I've always been socially awkward, as an introvert pretending to be an extrovert. Time with people tends to suck the life force out of me. But surprisingly, I have never been as social this past year or so since we ventured out of our comfort zone to live and travel in a RV full-time. Every day, one of us would make conversations with total strangers. At gas stations, grocery stores, RV parks, park grounds, even while stopped in traffic. People of all backgrounds stopped to talk to us. And once we shared our story of how we decided to buy this Blissmobil/LMTV, stemming from my husband's cancer, it was amazing how much of an ice-breaker and equalizer it was. Also much to our surprise, we met people from all over the world via Instagram, who because of our shared interests and love for RVlife, travel, expedition vehicles, or keto eating — many now feel like old friends!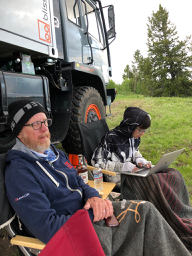 There is so much more I want to write about this, but my plan is to take some time to look at the multiple journals I kept while we were on the road. My husband wrote more extensively about traveling in an expedition vehicle/RV and some technical stuff too. We met so many awesome and kind-hearted people from his blog and both of our Instagram accounts. It really does give us faith in humanity!