Oftentimes in life, it's easy to succumb to old ways of being, of thinking. Mine tends to automatically go into what's going wrong. A friend of mine, who happens to also be a therapist and life coach, had stopped me mid-conversation one day over the phone. "Wait a minute, Lily. I want you to focus on what's going right. Name three things that are going right for you at this very moment in your life."
That began a new habit of mine, writing out a 'What's Going Right' list when I begin to feel that familiar feeling again — that clenched stomach, constricted chest, those worries of not doing things right, disappointing others, not being enough. When I begin to go into that spiral of doom and gloom, of what's the point, of overwhelm and lack of bandwidth, I'll stop and write my 'What's Going Right' list.
Today I woke up this morning feeling overwhelmed. There were only four days left of this year and I still haven't done all the things I said I wanted to do. There were all these people to get back to–all the DMs, comments, emails, phone calls, texts, Whatsapps. There were all the tasks related to work and clients, not to mention my own personal writing projects and goals.
But then I sat down and started typing out my list. There was so much that was going right. I just needed to remember!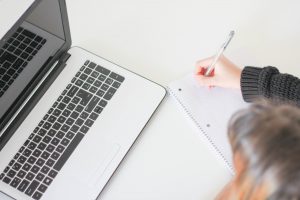 What I Wrote:
There is SO MUCH going right in your life right now!
Examples:
You just wrote in your novel (5/5) with J this morning
You just finished your Morning Pages (surpassing 750 words, now at 1559!)
Yesterday your GKI was 4, your ketones at 1.3 mmol/L
You know how to fast and know why you should do it
Your son wrote a card to you and his dad about how lucky he felt to have you guys as parents on Christmas morning with photos from his phone of your RV life together the past year and a half
You've blogged 24/28 days so far, only missing 4 days total — the most you've blogged ever!
Your husband and kid both want to be healthier, all regularly exercising now
Your kid actually wants to spend time with you (watching videos, working out, talking)
Your stepdaughter loves you and enjoys spending time with you and the family
You have a good relationship with all of your family
You are blessed with good friends and people in your life
You are almost in the best physical shape of your life and you're only getting older!
Your marriage is in the best shape it's been!
You have so many resources you can turn to should you need anything
Your kid loves the keto omelettes you make
Your kid is thriving — loving high school, his friends, and his new city (Austin)
You got to live a real adventure living in a RV full-time this past year and a half
Your husband will be FIVE years in remission from cancer next October (2020), thanks to using keto and fasting as an adjunct for cancer in addition to conventional treatment
By the end of my list, the feel-good endorphins were hopping around in my brain and I could only feel this:
Life is good!
Try the 'What's Going Right' list the next time you're in a funk. It's a great tool to use to lift your spirits and remind you of all the good things going in your life. And guess what? It feels way better than a To-Do list, that's for damn sure!
Photo by Mark Daynes on Unsplash